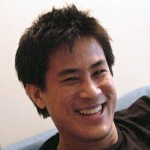 Thumbnail sketch: Technical program manager on Android at Google, photographer, world traveler, and digital denizen.
I occasionally write things here on my patch of the internet. It doesn't happen very often, but like most people with a blog I aspire to write more regularly. Some day, maybe.
---
---
Work Experience
Google
Technical Program Manager
Android (March 2010–Present)
Developer relations for:
Android (August 2007–March 2010)
Google Checkout (2006–August 2007)
IBM
Support engineering for:
DB2 CommonStore (2003–2006)
Urchin
Undergraduate intern (2000–2002)
Education
University of California, San Diego:
Bachelor of Science, Computer Science (2002)
National Merit Scholar
---
---
Colophon
This site is powered by WordPress and produced using a Macbook Pro, a Ricoh GR Digital II, a Canon 5D, Aperture, and other assorted goodies.
---
---